Terms of service
PRODUCTS
🇬🇧 Every product is handmade and painted in limited quantities. Since all of the process are artisanal, each specimen is different. Small imperfections are what make the items unique. Thanks for the support!

🇮🇹 Ogni prodotto è fatto a mano e dipinto in quantità limitate. Poiché tutto il processo è artigianale, ogni esemplare è diverso. Piccole imperfezioni sono ciò che rende gli articoli unici. Grazie per la comprensione!
METHODS OF PAYMENT
🇬🇧 We accept Visa, MasterCard, American Express, and Discover. All payments are handled by PayPal. Only one card may be applied per order. Your card will be charged at the time your order is placed. All pricing is listed in Euro, including gift cards.

🇮🇹 Accettiamo Visa, MasterCard, American Express e Discover. Tutti i pagamenti sono gestiti via PayPal. È possibile applicare una sola carta per ordine. L'importo verrà addebitato sulla tua carta nel momento in cui viene effettuato l'ordine. Tutti i prezzi sono indicati in Euro, compresi i buoni regalo.
TRANSACTION
🇬🇧 We take the utmost care and concern for your privacy while you are shopping on our site. We will never share or sell your information to any third party, and the information we collect is solely used to contact you about your order if necessary.

🇮🇹 Gestiamo con la massima cura e attenzione la tua privacy mentre fai acquisti sul nostro sito. Non condivideremo o venderemo mai le tue informazioni a terzi e le informazioni che raccogliamo vengono utilizzate esclusivamente per contattarti in merito al tuo ordine, se necessario.
SALE TAX
🇬🇧 We are not required to collect sales tax on any orders originating outside Italy.

🇮🇹 Non siamo tenuti a riscuotere l'imposta sulle vendite e/o ordini provenienti al di fuori dell'Italia.
PROMOCODE
🇬🇧 Promo codes may be entered at the COUPON CODE field in the checkout process. Simply type or paste your code in the box provided, and then click APPLY. Only one promo code may be applied per order. Promo codes cannot be combined with other offers. Promo codes are not valid on sale page items.

🇮🇹 I codici promozionali possono essere inseriti nel campo COUPON CODE durante la fase di acquisto. Basta digitare o incollare il codice nella casella fornita, quindi fare clic su APPLICA. È possibile applicare un solo codice promozionale per ordine. I codici promozionali non sono cumulabili con altre offerte. I codici promozionali non sono validi sugli articoli in offerta.
OPERATING HOURS
🇬🇧 Il Letterista is a sign workshop, when we're not painting or installing signs we can fulfill orders and answer your enquiries. We're generally opreational Monday through Friday from 9am-6pm CEST. We do not ship any orders on Saturdays or Sundays.

🇮🇹 Il Letterista è un piccolo laboratorio, quando non stiamo dipingendo o installando insegne possiamo occuparci degli ordini e rispondere alle richieste. In genere siamo attivi dal lunedì al venerdì dalle 9:00 alle 18:00 CEST. Non spediamo ordini il sabato o la domenica.
HOLIDAYS
🇬🇧 Il Letterista shop will be closed on the following days in observance of the holidays: New Year's Day, Labor Day, mid-august day, Easter, Christmas Day and other Italian national holidays.

🇮🇹 Il Letterista Shop rimarrà chiuso nei seguenti giorni nel rispetto delle festività: Capodanno, Festa dei Lavoratori, Ferragosto, Pasqua, Natale e tutte le feste nazionali italiane.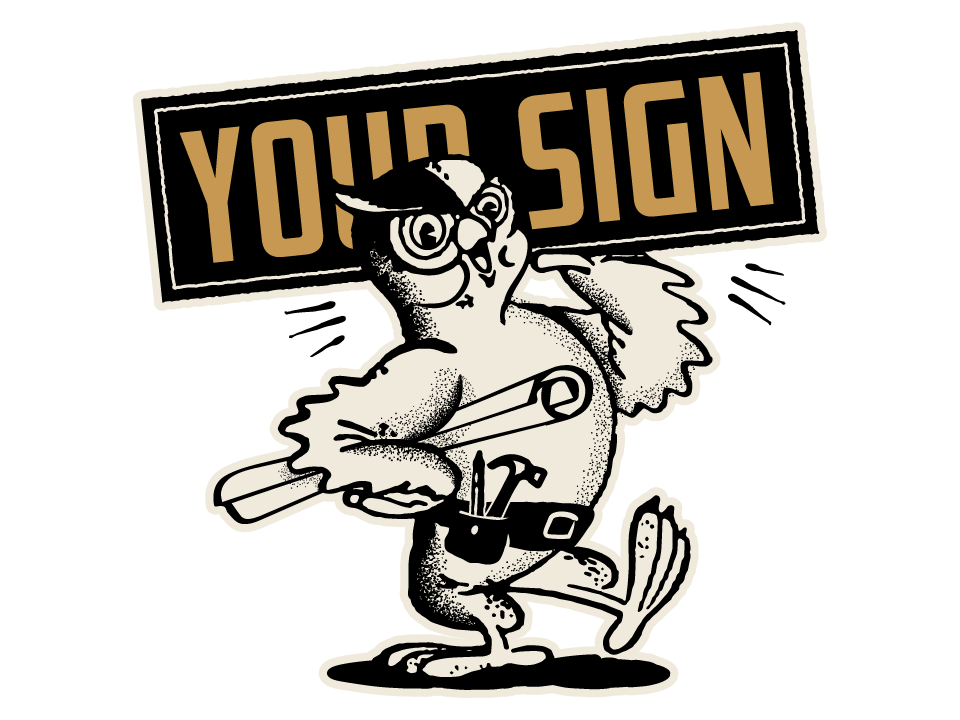 Commission your custom sign!
Get in touch with us to request a free estimate for the creation of a custom sign for you, as a gift or for your business.